The most effective solution for fastening your decking boards.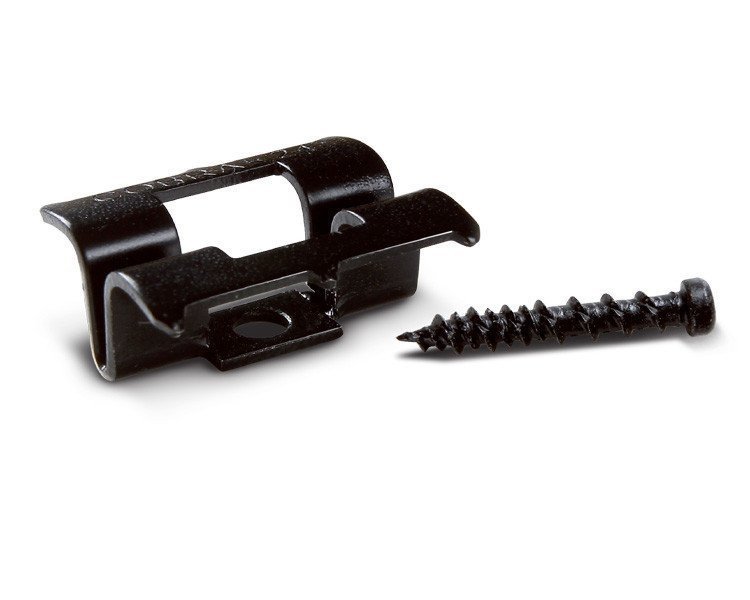 Features
Removable clip
Stainless steel clip AISI304 (90 pcs)
Screw 4.5x25mm in stainless steel AISI410 (90pcs)
Color matte black for no light reflection
Resistant to UV and extreme temperatures
Pulling strength up to 250 kg on hardwood joists
Cobra® concept
Developed by a team of specialist wood engineers, the Cobra® fastening system is the result of several years of research and constant improvement.  It was originally designed to provide a reliable fastening solution for composite decking boards while minimising board movement and expansion.  
Cobra® hooks located on the each side of the clip prevent decking boards movements, and hold strongly the board on the joist.  
Thanks to the Cobra® clips, no more visible screw heads that are often misaligned and can be dangerous when walking barefoot on the deck. 
Quick and easy installation of the Cobra® 20-24 clip
No specific accessories are required for installation with the COBRA 20-24 clip, so you can save 30% in build time compared to a screw-in deck.
A single, self-drilling screw is used per clip, so a simple screwdriver head (supplied with clips and screws) is all you need to attach the Cobra® fastener to the joists.  

Cobra clip is removable !
A special long bit for screwing (or unscrewing) between boards is included in each pack.  This is a major advantage when replacing a damaged board or accessing cables under your decking without having to remove the entire deck.
By continuing to browse this site, you accept the use of cookies to provide you with services and offers tailored to your interests.
Accept
To know more about it
La version de votre navigateur est trop ancienne
Vous ne pourrez pas afficher de manière optimale le contenu de ce site. Télécharger