Aluminum deck framing & support system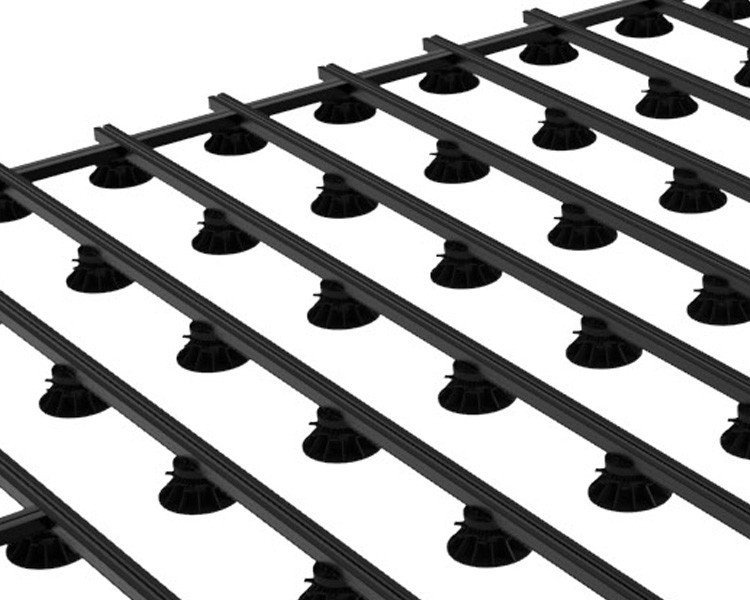 Features
Strong, rot-proof, ultra-light and quick to install thanks to the Cobra Tee-Al clip
Superior durability to conventional wood structures in all weather conditions
Extends the life of the structure and the guarantee of the decking
Excellent mechanical resistance, no deformation, perfect flatness
Fast and easy installation
Modular and durable structural system
Structur'AL® aluminium substructure system is the ultimate decking support solution.
Its simple design allows fast installation regardless of the complexity of the project. Designed to support any traditional decking systems, it is the perfect option for all decking applications. 
Structur'AL® is the perfect solution for high-load capacity and also for ventilation and access to drains under the deck structure.
Quick and easy installation
StructurAL® joist assembly on NIVO pedestal
The aluminium joists are simply attached to the pedestal.  Just press down and 'click' into place

Components of the StructurAL® concept
Bracket (20pcs)

- Crossbeam attachment
- Dimensions : 35x35x35mm
- Self-drilling screws supplied

Cobra Tee AL (90pcs)

- Suitable for wood & WPC decking
- Bi-material clip
- Pre-loaded screw

Joist connection sleeve (10pcs)

- For joist linear connection
- Dimensions: 35x175mm
- Self-drilling screws supplied

Start/end clip (10pcs)

- Matte black powder-coated clip
- Could be adjusted depending one the deck board thickness
- Self-drilling screws supplied

Pedestal joist adapter

- Connects adjustable pedestals and aluminium joists
- Joists are clipped on and off

Self-adhesive EPDM tape (20M)

- 10 x 5 mm - length 20 m
- Vibration and noise reduction
- Density: 110 kg/m3 - Shore A: 35

Stainless screws (100pcs)

- Dimensions : 5.5x40 / 5.5x50 mm
- Torx : Deep T20 torx head
- Material : AISI316
By continuing to browse this site, you accept the use of cookies to provide you with services and offers tailored to your interests.
Accept
To know more about it
La version de votre navigateur est trop ancienne
Vous ne pourrez pas afficher de manière optimale le contenu de ce site. Télécharger