Quick to install alternative for terrace tiles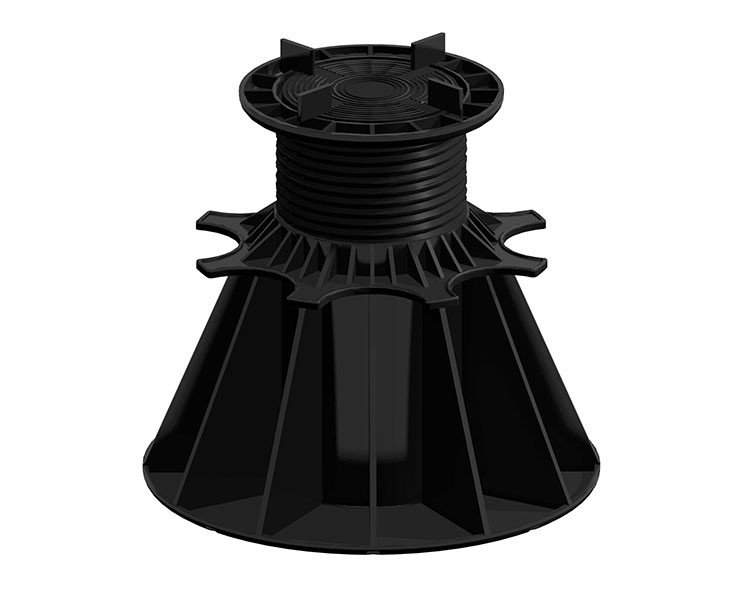 Features
Top head with tile support
Height adjustment by micrometric jack
Supports up to 250 kg (in high position) and up to 1 ton (in low position), compression load on 1/4 of the head of the pedestal
Complies with decking installation standards
Resistant to UV, atmospheric agents and temperatures between -30°C and +60°C
Made from a recycled material and 100% recyclable
Allows air circulation under the deck, as well as the passage of cables and ducts.
Compatible with the STRUCTURAL concept
Online calculator for tiles and slabs projects
To calculate the number of pedestals required for your deck project, it's easy with our online calculator. Simply enter the surface area of your deck, the joist spanand joist height : our calculator does the rest and gives you the number of pedestals required for your project.
Variety of available heights
NIVO® pedestals for concrete, ceramic or wooden tiles are available in 7 heights from 25 to 240 mm, with the possibility of extending them to 530 mm.
All our NIVO® pedestals are height-adjustable with micrometric screws and ensure that your deck tile is laid with total accuracy an flatness.  
NIVO® pedestals have a large base Ø20cm = 314cm². It helps to not penetrate and compromise waterproofing membranes. 

Full range

Optional: NIVO® Surplot for clipping on StructurAL® aluminium joists.

The NIVO® slabs can be fitted with a 1 cm thick "Overplot" which fits over the head of the slab between the lugs and allows easy clipping and unclipping of the 40x60mm aluminium joists of the StructurAL® concept.
By continuing to browse this site, you accept the use of cookies to provide you with services and offers tailored to your interests.
Accept
To know more about it
La version de votre navigateur est trop ancienne
Vous ne pourrez pas afficher de manière optimale le contenu de ce site. Télécharger