Universal and invisible fastening for decks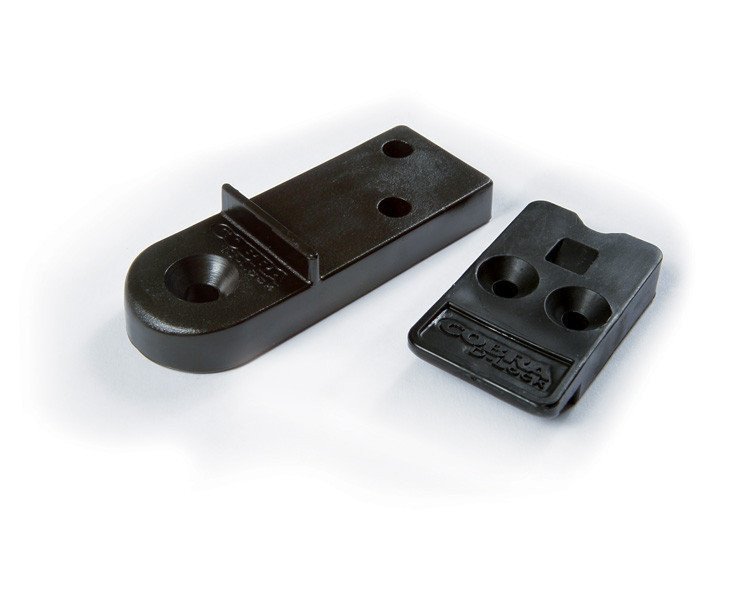 Features
Universal clip for deck boards from 20 to 28 mm thick and 90 to 150 mm wide.
Fastening system adapted to non grooved decking boards
Provides ventilation under the board
Strong and resistant to humidity and extreme temperatures
Made of polymer material of the POM type: polyoxymethylene
Compatible with all wood decking and structure, with compulsory pre-drilling
Cobra® D-LOCK concept
Our Cobra® D-LOCK universal concealed fastening system is suitable for all types of ungrooved wooden or composite decking boards from 90 to 150 mm wide and 20 to 28 mm thickness.
The pack includes all needed components for your deck installation.  One pack covers a surface of 4m² with an average joist span of 50 cm, and for boards 140 mm wide.
Installation in 4 steps
The Cobra® D-LOCK is very easy to install using the drilling template included in the kit.  The drilling template is a metal bracket that allows pre-drilling to be done directly on the deck board, at the right spot.  The Cobra® D-LOCK clips can then be screwed with no positioning errors.
Here are the 4 installation steps and how to use the different components provided in the kit:
START: Position and attach the first board with the Start/End clips.
NEXT: Attach the following  boards with the standard Cobra® D-LOCK clip.
CROSS: Attach 2 boards at the junction on the same joist
END: Attach the last board with the Start/End clips
By continuing to browse this site, you accept the use of cookies to provide you with services and offers tailored to your interests.
Accept
To know more about it
La version de votre navigateur est trop ancienne
Vous ne pourrez pas afficher de manière optimale le contenu de ce site. Télécharger